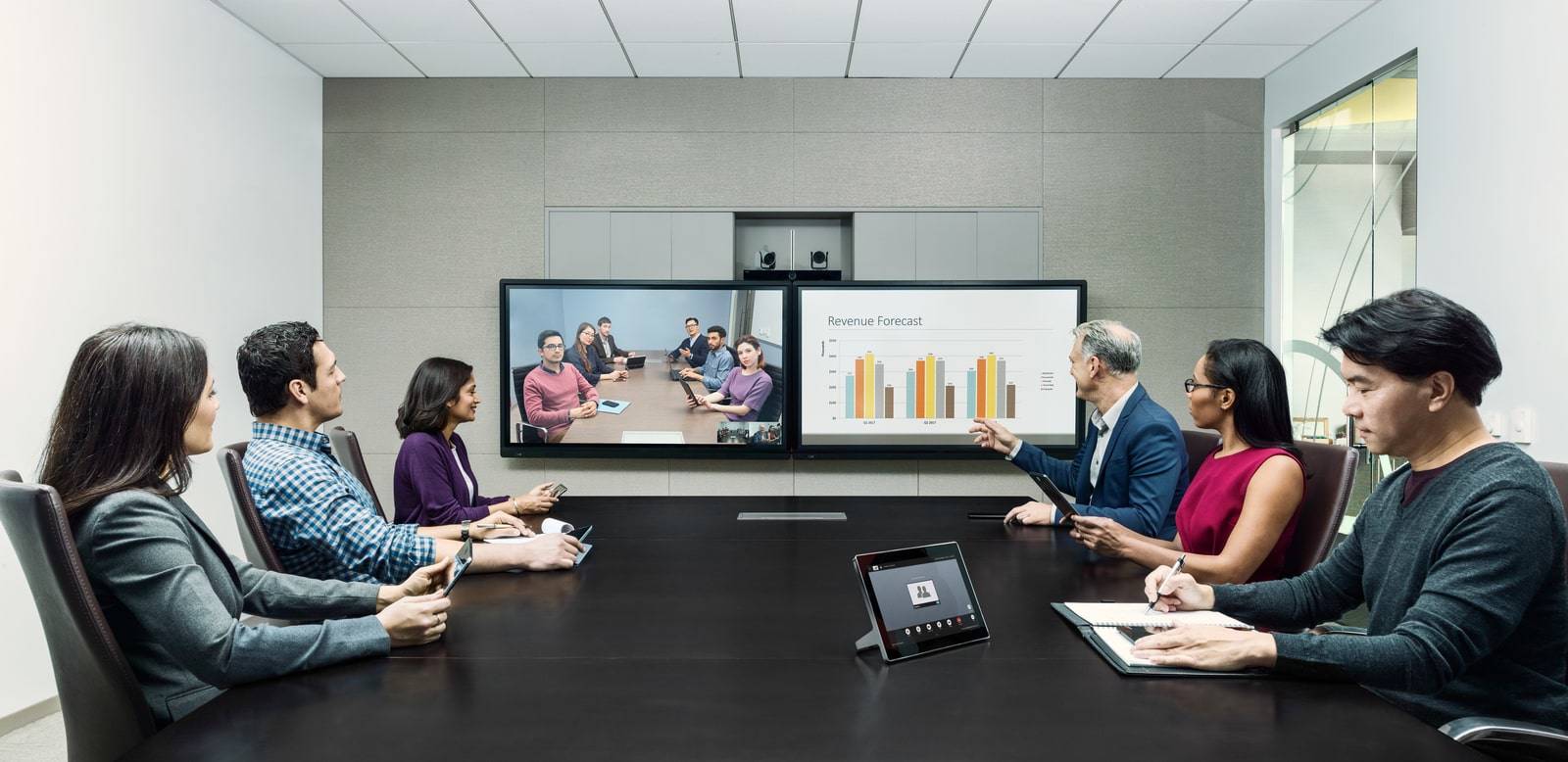 One of our loyal customers, a Fortune 1000 oil and gas equipment and services company headquartered in Houston, TX, provided some feedback about how their newest conference room solution, the Poly EagleEye Director II camera, helped solve a challenge that drastically improved their collaboration space experience.
Video Conferencing Challenges
Our customer's challenges took place in a large, 30 x 25 ft. conference room with a standard boardroom-style conference table that regularly seats 11 people. Their original video conferencing solution was unable to capture everyone in the room and active speakers were being cut out of the frame, lessening the connection between in-person and remote participants and dampening collaborative efforts.
Camera presets also proved troublesome, with each
meeting organizer constantly overriding the previous organizer's presets. A
360° camera was even installed in the center of the conference table, but its zoom capabilities were not sufficient to reach the ends of the table. Remote workers also expressed having a negative meeting experience with participants in this room due to these persistent issues.
Resolution
UnifiedCommunications.com suggested that the Poly EagleEye Director II camera be installed in the conference room. It features a remarkable pan, tilt, zoom (PTZ) capability and active speaker tracking that auto-frames the person speaking while showing a smaller view of the whole group in one video stream.
This camera is recommended for spaces where people can be within 33 feet of it, making it a perfect choice for our customer's large conference room.
The TV-production-quality of the seamless active speaker tracking solves both of our customer's issues by inherently negating the need for camera presets and ensuring every participant is seen clearly.
Reception
"We found that the active speaker tracking capability—our favorite feature—has been consistently on point for each speaker," says the company's Skype for Business Administrator, "and we all agree the picture is incredibly clear."
"The majority of our in-room users would recommend the Poly EagleEye Director II camera to others experiencing similar challenges," he continues. "The camera
works for our needs, and the more we use it, the better it works. By day five of using it, they love it."
---
At UnifiedCommunications.com, we have a deep passion for and understanding of the gamut of devices in the UC ecosystem and strong relationships with our manufacturer partners. We focus on understanding our customers' unique communications and collaboration challenges and goals and recommend devices and solutions that hit the mark and surpass expectations. Partnering with us is like adding an in-house team to your organization fully dedicated to channeling our expertise to ensure you are equipped to win the collaboration game and remain future-proofed and supported.