The best way to promote seamless hybrid work is to ensure that your workforce doesn't have to go through an adjustment period when transitioning from one workspace to another – a different keyboard, a different mouse, a different work style, etc.
And it goes without saying that hybrid work best practices include investing in high-quality tools such as the right professional calibre headsets, webcams, displays, and everything else that comprises a top-notch workspace.
At UnifiedCommunications.com, we've spent a lot of time on this issue – because our technology solutions, our professional services, and our customer conversations – revolve around how to get the most out of modern work.
Listen to Ryan Herbst, Chief Strategy Officer at UnifiedCommunications.com, discuss the impact of technology in this short video – and download our infographic on How to create the Modern Workplace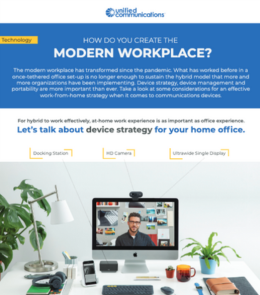 What else can you do to get the most out of a hybrid workstyle? Start thinking about headsets as personal acoustic environments – look at active noise-cancellation technology and dual-ear coverage, which provide maximum focus for quiet, for music, and ultimately for heightened concentration.
Once you've selected the right suite of devices, keep them updated! By implementing these recommendations, you can create a more focused and engaging work environment for your remote employees.
Want to talk over your options? We would be thrilled to discuss these ideas further and explore how they can be seamlessly integrated into your hybrid worker home office strategy. In the meantime, download our infographic on hybrid work best practices – and get the most out of your hybrid work strategy.