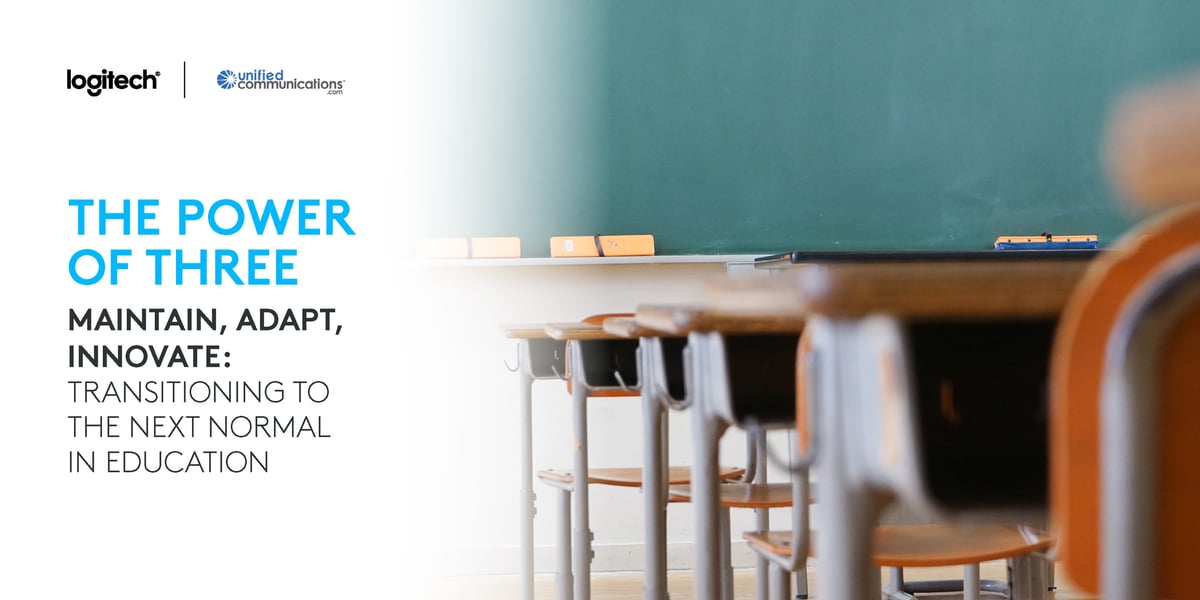 To date in 2020, at least 4,234 higher education institutions and over 124,000 schools have been forced to shift to distance learning models across North America. 25.8 million higher education students¹ and 55 million K-12 pupils² have been affected, each having to quickly adapt to new ways of learning that may be here to stay.
Whether institutions are looking to return this fall, keep students learning remotely, or take a hybrid approach, there are several key considerations for IT leaders to help prepare for the transition.
THE POWER OF VIDEO
Video has fast become the de facto standard for learning and connecting at a distance. Key to improving the learning experience, video has the power to increase inclusivity for all in any situation. To help institutions cope with new digital ways of teaching, video collaboration platforms such as Google Meet, Microsoft Teams, and Zoom are offering free access or reduced usage limitations3.
"The use of video in the classroom helps expand the reach of innovation by breaking down the physical barriers of education. SMEs and new experiences like Microsoft Skype a Scientist or virtual field trips can be introduced as new ways to create advanced learning curriculums."
– Madeleine Mortimore, Education Technology Innovation, Manager
MAINTAIN: CONNECTIVITY, WELL-BEING, AND PERSONALIZED LEARNING
The future of education remains uncertain for every institution. To respond quickly to ever-changing situations and help their institution navigate to the next stage, IT leaders and school administration must firstly understand what needs to be maintained. Human connection, support with mental and physical wellbeing, and help with delivery of personalized learning that engages and motivates students to learn are all crucial considerations. By using video collaboration tools to equip classrooms of all sizes, IT can give faculty and students more flexibility to connect and lift limitations on where teaching and learning can happen.
ADAPT: CLASSROOM SETUP, REMOTE LEARNING, AND NEW SAFETY STANDARDS
Face-to-face virtual connections combined with best practice usage policies help ensure communication is safe and secure. With only 60% of educators having received professional development training in the use of technology4, it's vital that teachers as well as students must be supported – regardless of their tech capabilities. Parent and teacher surveys are a valuable source of insight when it comes to bridging any digital divide. While the use of mobile carts carrying video collaboration tools can reduce the need for devices to be shared, connecting students no matter their location.
INNOVATE: REMOTE SUPPORT, CLASSROOM ANALYTICS, AND STUDENT AND TEACHER TECH LEADS
New developments are enabling institutions to keep pace with the next normal while meeting changing educator and student demand. This includes interactive portals that provide teachers and staff with remote tech support, and remote student or teacher tech squads that offer additional IT support while giving tech super-users hands-on IT experience. For returning schools, IT can quickly identify high occupancy numbers using the latest machine learning technology.

No one can say when full time in-person learning will return. However, one thing is for sure. Whether it's virtual classes, interactive virtual seminars, or remote assessments, video enables students and educators to communicate in a way that feels up close and human - in and beyond the classroom.

Find out more about emerging tech trends and support for various return to school scenarios in Logitech's latest eBook – Maintain, Adapt, Innovate: Transitioning to the Next Normal in Education.