Get ready to dive into the world of high-tech communication, where even the smallest things can make a big impact. Meet the Logitech Rally Bar Huddle –the latest gem from the Logitech Rally Bar lineup!
Rally Bar Huddle is the compact powerhouse that's here to change the game in small meeting spaces. In a world where smaller is often better, Logitech is stepping up to the plate with a solution that promises simplicity, versatility, and exceptional performance!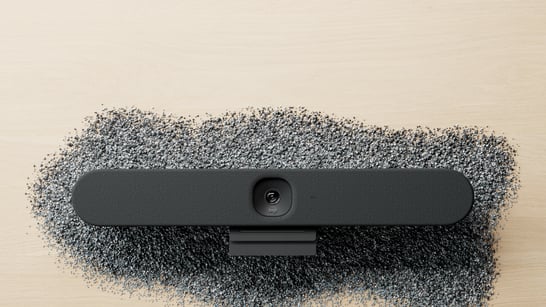 Picture this: you've got a small meeting room that fits up to six people, and you need a communication setup that can handle it all. Well, look no further. The Rally Bar Huddle is your new best friend, ready to accommodate huddle and small rooms, making it perfect for those brainstorming sessions or quick catch-up with your team!
In keeping with the Rally Bar tradition, this innovative device caters to a diverse range of preferences, namely Microsoft Teams room, a Zoom room, or a Google Meet system. Alternatively, you can go for the BYOD mode and connect your laptop –it's all about keeping things flexible, easy and effortlessly versatile.
Now, let's talk visuals. The Rally Bar Huddle packs a 4K digital pan-tilt-zoom camera with a 120º degree field of view, which means it captures all the action, evenin smaller rooms where everyone's cozying up to the screen. With AI video intelligence, you'll get nifty features like Logitech's RightSight grid view, speaker view, and even integration with Zoom's smart gallery and Microsoft's forthcoming IntelliFrame feature. Come for the technology but stay for the professional-looking meetings with a compact video bar like the Huddle!
On the audio front, the device comes with six integrated beamforming microphones that can pick up sound from a whopping 23 feet away. It's like having your own personal sound crew to make sure everyone's voice is crystal clear, and those pesky noises stay in the background.
Worried about privacy? Don't be. The Rally Bar Huddle comes with an automatic privacy shutter that guards the lens when it's not in use. Plus, it gives you visual cues about your video status during calls, so you'll always know if you're live or not. Additionally, you can choose between graphite and off-white fabric covers or even a rugged plastic cover to match your style –why settle for less when you can have it all?
Setting this thing up is a breeze, thanks to its genius all-in-one mounting bracket. Whether you want it on a table, hanging on the wall, or proudly displayed, this little device can handle it all. And it's got integrated cable management, ensuring a tidy setup with cables neatly tucked away so it looks slick and professional.
Sustainability at its Finest
The Rally Bar Huddle is the first Logitech video bar made from recycled plastic, with 42% post-consumer recycled plastic parts and is certified carbon neutral! Logitech's all about giving plastic waste a second chance, and they've been doing it since 2017. Logitech's gone the extra mile to offset and remove carbon emissions, making this product eco-friendly. Plus, the packaging comes from FSC-certified forests and other controlled sources. It's a win-win for you and the planet!
So, what are you waiting for? Ready to turn your small meeting space into a hub of seamless communication? Head over to UnifiedCommunications.com and check out the Rally Bar Huddle. It's time to let this remarkable device-redefine collaboration, one compact room at a time!