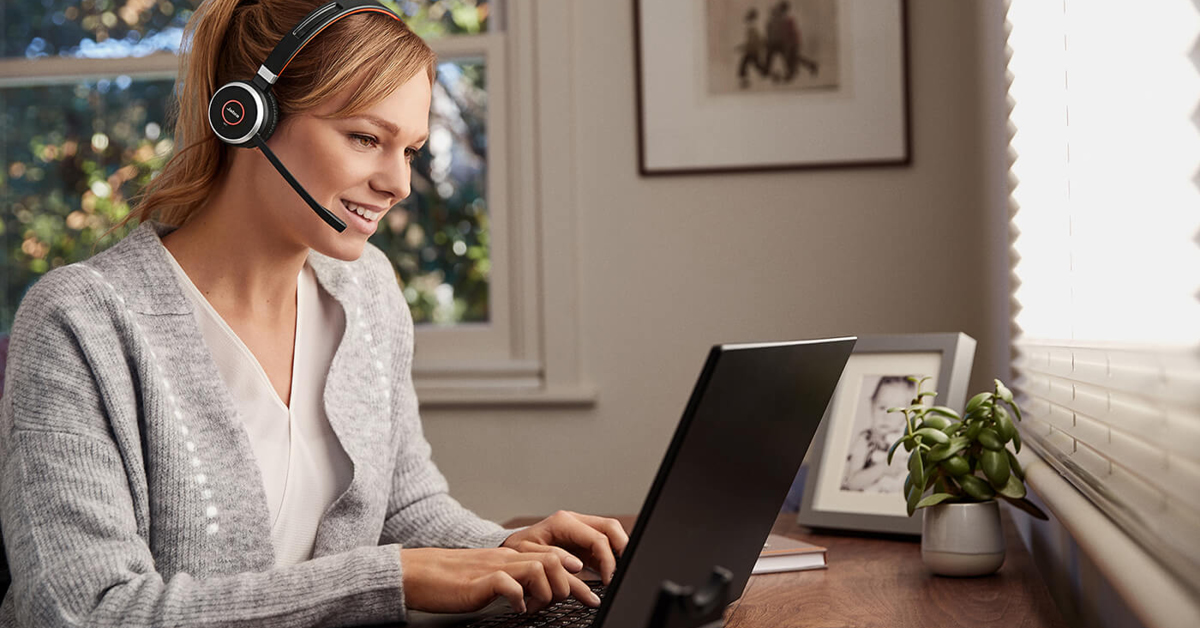 Source: Jabra
The COVID-19 coronavirus pandemic has kicked remote work into high gear, and while some companies have been prepared for this shift, many have been blindsided. As a result, we are receiving an influx of inquiries around what is the best headset for working at home.
Those new to working at home often conduct softphone calls and video conferences using their PC mic and speakers or cheap earphones. This is an inadequate approach to communicating while working at home for several reasons.
Poor audio quality and unavoidable background noise make it difficult to hear others and be heard by them. This furthers the disconnectedness that distance fosters. Investing in the quality audio experience provided by headsets helps you truly tune in to your conversations which increases your productivity by minimizing distractions.
These are our top five considerations in choosing the best work at home headset.




1. What devices should your headset connect to?
Are you only taking calls from a softphone on your PC? Or do you also want to take calls from your mobile device? What about your desk phone? All three?

Although most people don't have a desk phone at home, they do back at the office. It's worth considering whether you want a headset that works with it when you return.
2. Corded or wireless?
Corded headsets are less expensive, provide reliable connections, and don't require charging.
Wireless headsets provide freedom of mobility while on a call, with connection ranges varying by headset. They are typically more expensive than corded headsets and require charging.

Wireless headsets can be Bluetooth capable for mobile device connectivity. These generally have a more limited range but are great options for those who want simultaneous and seamless call-handling between devices.

For people who would like to walk long ranges while talking, wireless DECT headsets are an option.
3. Single ear or dual ear coverage?
There can be many distractions at home, so being able to cover both ears gives you an extra edge to do some focus work. But maybe you want to be more aware of your immediate surroundings, in which case single ear coverage would make sense.

However, for most of us working from home, dual ear coverage is typically recommended.
4. What kind of wearing style?
Headsets come in many wearing styles:
Over-the-head

Behind-the-head

Over-the-ear

In-the-ear

Around-the-neck

Earbud
Even within these categories there are subcategories, like whether the headset fully covers or just sits on top of the ear.

Headsets are personal devices and your unique preferences are going to determine which style you are most likely to embrace. Some people aren't comfortable with something inside their ears and opt for over-the-head varieties, while others refuse to ruffle their hairdo and reach for earbuds.
5. Do you need any advanced features?
Active Noise Cancellation (ANC) helps to cancel out background noise for prime focus work. Headsets with ANC are typically more expensive, but the noise cancellation effect is striking and can be useful in noisier places like airplanes, cafes, and on public transit.
It's a stressful time, so opting for a headset that offers high-fidelity music and multimedia can promote relaxation during your break or after work.

So, what IS the best work at home headset?
If you made it this far, you'll understand why the answer is that there is no one-size-fits all headset. There are simply too many personal considerations.
Visit our Remote Worker Hub for headsets and other devices or call us at (800) 641-6416 or live chat with us for assistance choosing the best headset for your unique needs.
Watch our Chief Device Strategist, Ryan Herbst, explain more:
One last consideration: the future
We hope this helps you narrow down your perfect work at home headset, and we urge you to consider the future in your decision.
After this challenging time has passed us, what do you need long term? For instance, if you have always been a mobile worker who is out and about, it would be useful to have a headset that supports that work style not only while working at home, but when you return to your normal way of life and work.
Stay safe and healthy!